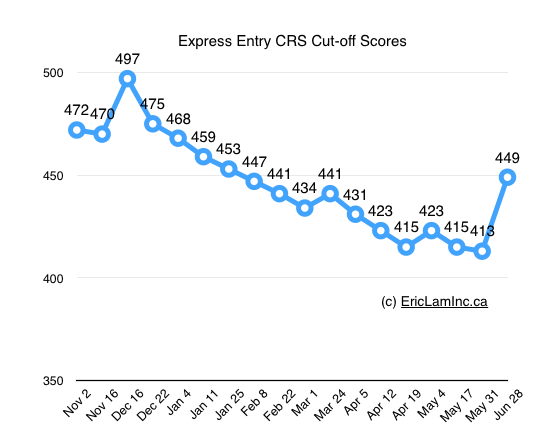 As predicted, with the recent changes to Express Entry's Comprehensive Ranking System criteria benefiting candidates possessing high proficiency in French (and intermediate-level in English) and candidates whose siblings (by blood or adoption) are Canadian citizens or permanent residents, draw result of 28 Jun 2017 saw a hike from 413 to 449 after 4 months at low and very-low cut-off scores.
There were 3,409 Letters of Invitation to Apply (ITAs) issued on the day and this figure is quite high. Comparing to the CRS score distribution of candidates in the Express Entry pool on Immigration, Refugees and Citizenship Canada (IRCC)'s website, we can expect lower cut-off score in the following draws. Your opportunities are still there if you score above 430-449.
Some tips on improving your CRS score:
Improve your language test result(s) (IELTS, CELPIP or/and TEF),
Earn yourself a Canadian education degree/diploma/certificate, at an IRCC's Designated Learning Institution, then Canadian work experience. The two "assets" don't just give you more CRS points themselves, they even create "combinations" between them and with language and foreign work experience factors to advance your score.
——
Express Entry is a Canadian immigration application ranking, selecting and processing system for qualified candidates who are eligible for one of the four immigration programs: Federal Skilled Worker Program, Federal Skilled Trade Program, Canadian Experience Class and Provincial Nomination Programs. Candidates are ranked on a 1200-point scale called Comprehensive Ranking System (CRS) in which a candidate (and spouse or common-law partner, if applicable) can have maximum 600 points from "human capital factors", "spouse/common-law factors" and "skill transferability factors" while the other maximum 600 will come from "additional points" as Canadian citizen/permanent resident sibling(s), French language skill, post-secondary education in Canada, arranged employment and provincial nomination.
——
Creating an Express Entry profile and submitting an electronic Application for Permanent Residency is not that simple, we can help. Try calculate your Express Entry Comprehensive Ranking System score then tell us the score by sending it together with your updated résume/CV to [email protected] or simple call us +1 (778) 725-1071
© Eric Lam, Regulated Canadian Immigration Consultant, Member in good standing of ICCRC
[Please credit this source when sharing and read the Content Disclaimer at this page footer]